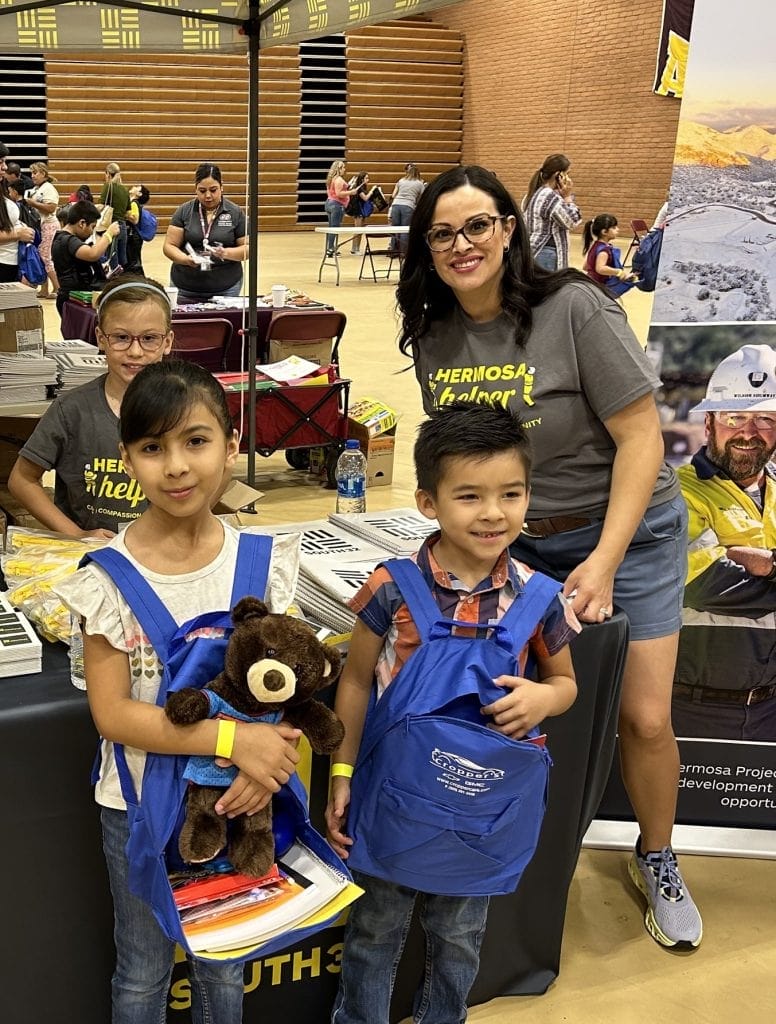 In May 2023, Tucson native Stephanie joined Hermosa as a Tribal Affairs Specialist, bringing with her a passion for communications and relationship building. As a tribal member herself, Stephanie is inspired to help Hermosa build and maintain connections with local tribes that have historic affiliation to the project area and neighboring lands.
Although she didn't have prior experience in the mining industry, Stephanie had previously worked with tribal representatives in her career and knew that many of her skills from previous roles would translate into the work she would be doing at Hermosa. She showed up to Hermosa eager to dive into the industry. "Even if I wasn't familiar with mining, I was willing to learn," shares Stephanie.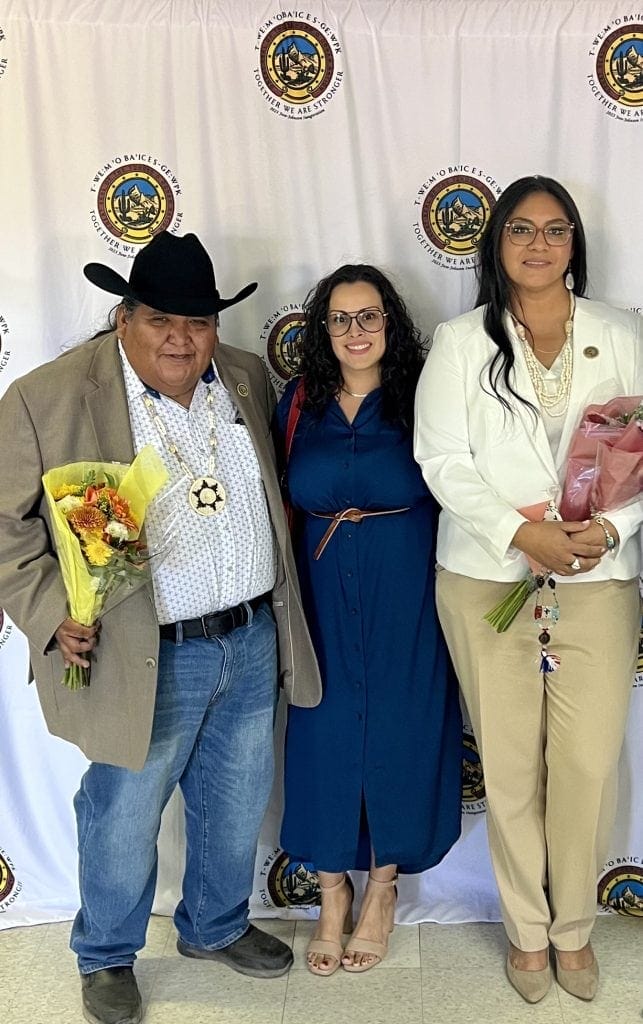 As part of her day-to-day work at Hermosa, Stephanie helps coordinate community and tribal engagement efforts, working to build, maintain, and solidify important relationships between South32 and local tribal members. Her focus is on being prepared to serve as a resource when community members have questions about the project and supporting cultural heritage considerations in the ongoing planning and development of Hermosa. Stephanie is hosting tribal site visits this fall, demonstrating Hermosa's commitment to understanding tribes' historic connections to the project area and surrounding region, and ensuring the open flow of communication between South32 and tribes.
Stephanie's perception of mining has shifted now that she's worked behind the scenes and gained hands-on experience with South32. "Everything that South32 does comes down to doing things the right way. I felt good about taking the role," she says. Her favorite part of being on the Hermosa team is participating in the learning culture. "At any given moment, I don't feel lost. There's always a resource at South32," notes Stephanie. Stephanie says people make Hermosa, and working with colleagues who have diverse backgrounds and an openness to learn from one another is what she's enjoyed the most during her time with South32.
When she's not working, Stephanie can be found spending time with her family, who shares in her love for music and local food hotspots. Whether it's supporting her son who plays trumpet in a mariachi band or hitting up the local mariscos, Stephanie enjoys the shared moments with her husband and kids. And when the weather cooperates, Stephanie loves being outdoors. She smiles when she says, "I've traveled, but I've always come back home."
Stephanie Moreno, Especialista en Asuntos Tribales
En mayo de 2023, Stephanie, oriunda de Tucson, se incorporó al proyecto Hermosa como especialista en Asuntos Tribales, puesto en el que aporta su pasión por las comunicaciones y la construcción de relaciones. Siendo ella misma miembro de una tribu, Stephanie se siente motivada a ayudar al proyecto Hermosa a establecer y mantener vínculos con tribus locales que tienen una afiliación histórica con el área del proyecto y tierras vecinas.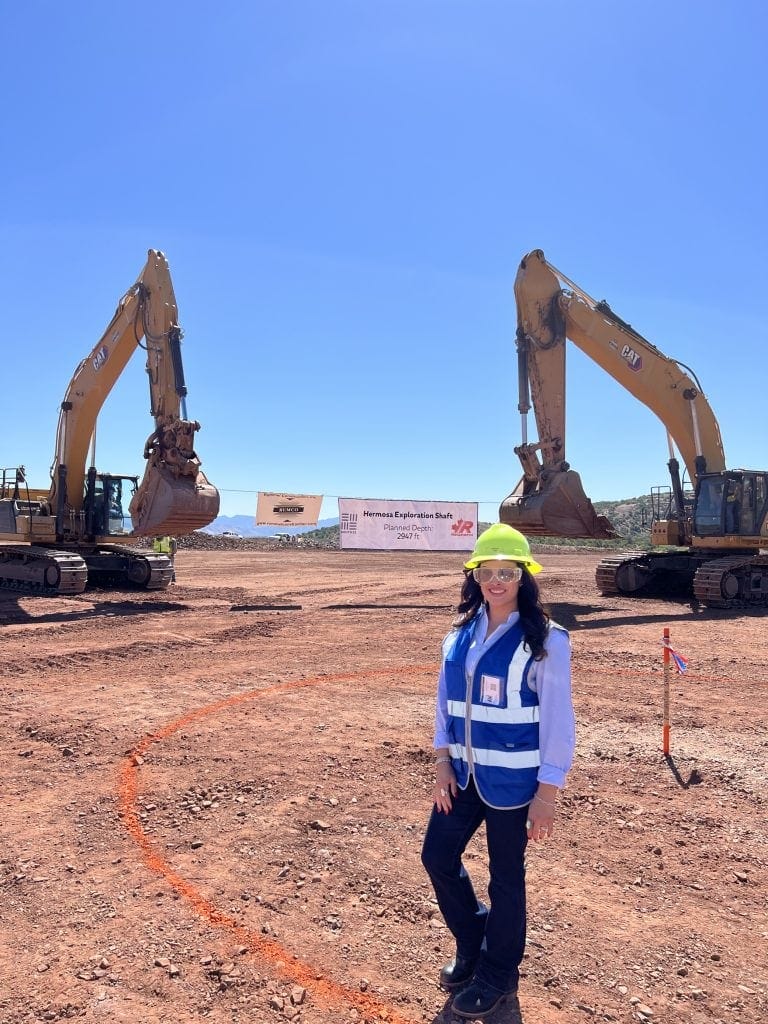 A pesar de no tener experiencia previa en la industria minera, Stephanie había trabajado antes con representantes tribales en su carrera, y sabía que las habilidades adquiridas en sus empleos anteriores serían aplicables al trabajo que realizaría en Hermosa. Llegó a Hermosa con muchas ganas de entrarle de lleno a la industria. «Si bien no estaba familiarizada con la minería, tenía la disposición de aprender», cuenta Stephanie.
Como parte de su trabajo diario en Hermosa, Stephanie ayuda a coordinar los esfuerzos de participación comunitaria y tribal, y trabaja para construir, mantener y consolidar relaciones importantes entre South32 y los miembros de las tribus locales. Su principal objetivo es estar preparada para ser un punto focal de la comunidad cuando surjan preguntas sobre el proyecto y apoyar las consideraciones de patrimonios culturales en el curso de las actividades de planificación y desarrollo del proyecto Hermosa. Stephanie está organizando visitas a las tribus este otoño, lo que demuestra el compromiso del proyecto Hermosa de comprender las conexiones históricas de las tribus con el área del proyecto y zonas circundantes, y garantizar un flujo abierto de comunicación entre South32 y las tribus.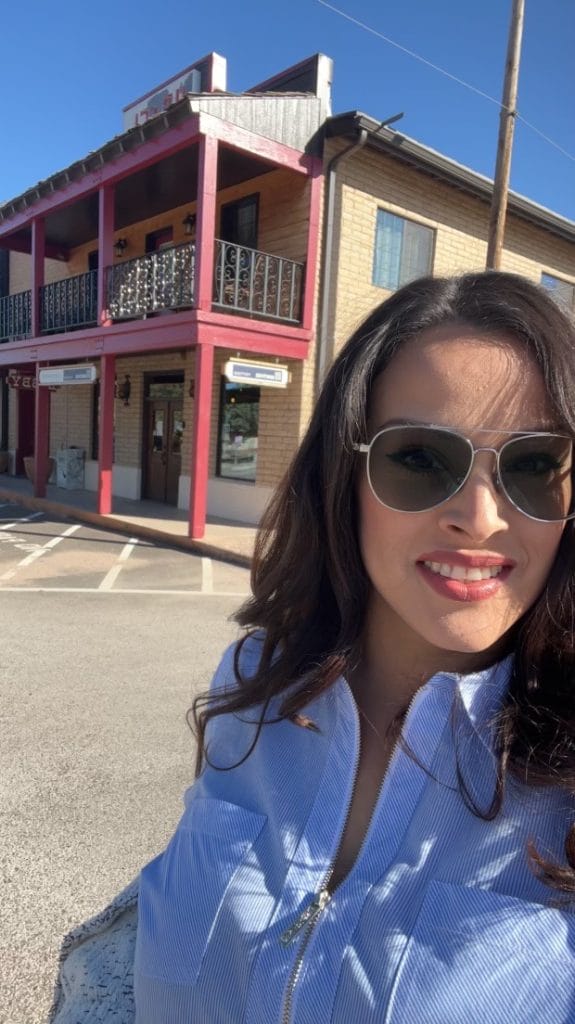 La percepción de Stephanie sobre la minería ha cambiado ahora que ha trabajado tras bastidores y ha adquirido experiencia práctica con South32. «Todo lo que hace South32 se resume a hacer las cosas en la forma correcta. Me sentí bien al asumir este rol», afirmó. Lo que más le gusta de ser parte del proyecto Hermosa es la cultura de aprendizaje. «En ningún momento me he sentido perdida. Siempre hay a quien recurrir en South32», indicó Stephanie. Stephanie dice que el proyecto Hermosa está conformado por variedad de personas, y trabajar con colegas de diversos orígenes y buena disposición a aprender los unos de los otros es lo que más ha disfrutado durante su estancia en South32.
Cuando no está trabajando, Stephanie se dedica a pasar tiempo con su familia, quienes comparten su amor por la música y los restaurantes locales. Ya sea apoyando a su hijo que toca la trompeta en una banda de mariachis o visitando las marisquerías locales, Stephanie disfruta de los momentos compartidos con su esposo e hijos. Y cuando el clima lo permite, a Stephanie le encanta estar al aire libre. Ella sonríe mientras dice: «He viajado, pero siempre vuelvo a casa».